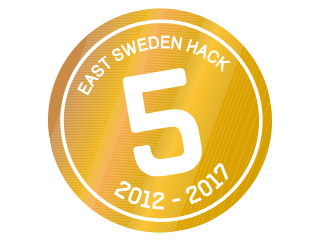 During the Hack, use at least one of these data sources.Feel free to use other data sources as well. Hack for Sweden, Opengov.se and API-katalogen.se are good examples on where to find Open Data in Sweden. In addition to the written information, you can also see several of our partners present their data and platforms on their own. Click on the youtube movies to find out more.
The Swedish Transport Agency (Transportstyrelsen)
Recreational boats and emptying stations for sewage
In 2015, a ban was imposed on the release of toilet waste from recreational craft in sea, lakes and inland waterways. In order for the prohibition to be complied with, the recreational boat owners who use the port need to be able to refuse sorted waste for recycling, environmentally hazardous waste and toilet waste.
Since we believe that there is a great value in making it easier for boat owners to find effective emptying stations, we have built a service for this purpose using this API. The map service – The port of discharge stations consists of an interactive map with updated information about emptying stations and other service facilities retrieved with the API operation "List ports".
URL: https://tsopendata.portal.azure-api.net/docs/services/57723f1d3d0c0204787e3d3c/operations/57723f1f3d0c023140314927
Open data on police reported road traffic accidents
Reported data on road accidents involving personal injury on Sweden's combined road network from 2003 until the beginning of 2017. The data is taken from the Strada Information System and contains national and regional accident and injury statistics reported by the police. The Transport Agency is the principal of STRADA. Examples of variables found in the dataset are gender, age, when and where the accident occurred, accident type, prevailing weather, road conditions and the types of vehicles involved in the accident. However, it is important to note that there may be quality differences in the data being reported.
URL: https://tsopendata.portal.azure-api.net/docs/services/571a3478705b5b1444bfa2f6/operations/571df4f83d0c020934df3b92
Passenger data through congestion tax and infrastructure fees
The API contains open data linked to passengers through established payment stations in Gothenburg, Stockholm, and at Motala and Sundsvallsbron.
The Transport Agency is responsible for the congestion tax system in Sweden congestion taxation system and for charging for bridge charges at Motala and Sundsvallsbron. The congestion tax aims at reducing congestion, improving the environment and contributing to financing infrastructure investments. Infrastructure charges are taken to finance the construction of a new bridge, road or tunnel.
URL: https://tsopendata.portal.azure-api.net/docs/services/571df6673d0c0213307fde15/operations/571df6673d0c020934df3b9e
Contact person for questions: TBD
Akademiska Hus
Akademiska Hus aims to reduce the amount of delivered energy by 50 per cent by 2025, taking 2000 as the comparison year. Work is underway around the country with many different solutions. For example, we currently receive over 20 million kWh of heat and 17 million kWh of cooling from geothermal energy, free cooling and recycling. Our solar installations generate over one million kWh of sustainable electricity at Swedish centres of education. We are also working to eliminate the CO2 footprint from energy use in the operation of our buildings and to achieve 100 per cent renewable energy within the company. In order to achieve our goals we must continuously reduce energy consumption in our existing properties and build energy efficient buildings. At the same time we are strengthening our cooperation with both customers and suppliers in order to best achieve results that give Sweden even more sustainable campuses.
Therefore, we have now opened up our energy portal, which contains all the values from our 3,243,190 sq.m properties, located at sixteen university cities in Sweden. The energy portal currently contains more than one billion different measuring points, making it a truly unique collection of energy data. It is also possible to compare values as far as ten years back in time.
Akademiska Hus: We are one of the largest property companies in Sweden and by focusing on universities and colleges we build and manage sustainable knowledge environments that satisfy many aspects of life. Our long experience and focus on trends in the academic world allow us to build both innovatively and for the long term. We currently have a property portfolio totalling SEK 73 billion and a turnover of SEK 5.7 billion. To meet future demand we a project portfolio worth SEK 16,7 billion. This is how we contribute to a wiser Sweden. Find more examples of how we work at akademiskahus.se
URL: Please contact our contact person to get access to the address!
Contact person for questions: peter.karlsson@akademiskahus.se
Östgötatrafiken
Our traffic data found at Trafiklab.se. Right now this is static time table data, showing locations of bus stops as well as time table information for all our vehicles.
URL: https://www.trafiklab.se/
Contact person for questions
jacob.johansson@ostgotatrafiken.se
ACTIA Nordic AB
Telematics Hardware & Software Platform. As a participating team in East Sweden Hack, you will be able to use the ACTIA Open Telematics Platform – TGU-R Access.
It is a Telematics Gateway Unit holding a SDK, which enables the participating team to write own application for the City of the Future directly running on the unit.
In order to facilitate the usage of the ACTIA Platform, we will offer a training session on the 4th of September. This session will be available on Skype or at our premises in Linköping, Mjärdevi.
If you have any further questions, please contact Oscar Holm at oscar.holm@actia.se
URL: www.actia.se
Contact person for questions
Oscar Holm at oscar.holm@actia.se
Indentive
We will bring you the possibility to use LoRaWAN during this year ESH! By using the microcontroller LoPy from Pycom, https://www.pycom.io/product/lopy/, you'll be able to connect sensors to a LoRaWAN and get the data nicely using deepstream from our open IoT-plattorm Connective.
Contact person for questions
Magnus Broeders, mbr@indentive.se
Region Östergötland
Data about Region Östergötland and it's inhabitants (health, healthcare, regional development, environment, public transport, economy etc.)
URL: http://www.regionostergotland.se/Regional-utveckling/Samhallsplanering/Analys-och-statistik/Oppna-data/
Contact person for questions
Gunnar Björkman
Senion
Senion offers indoor positioning for smartphones. The product is an SDK for iOS and Android and it delivers latitude, longitude and floor number for an indoor envirionment where the GPS doesn't work.
With the SDK you can build location aware applications and systems. The product also has a GeoMessenger feature, that is, the SDK will fire an event if the user enters or leaves a predefined zone. The zones can be managed on the web.
There are example apps for both Android and iOS ready for you to use in the Hack.
If your team is interested in using indoor positioning in your hack, please contact Senion to get access to the SDK, sample apps and extensive technical documentation.
URL: https://senion.com/products-services/
Contact persons for questions: torbjorn.lundquist@senion.com and tim.bjarengren@senion.com
Tekniska verken
Our APIs give you access to near-to-live data for:
District heating production – The total production of district heating, fed into the common district heating network in Linköping and Mjölby, hour by hour measured in MWh.
Domestic waste – The average amount of collected domestic waste for private customers in Linköping, per month
Water levels – Current water levels and flows for the lakes Sommen, Roxen, Vättern, Glan och Järnlunden. The data is updated once every day. It's possible to retrieve historical values for a certain lake and time interval.
We can also provide non live consumption data for a set of customers with different commodities:
waste collection
distribution of electricity
district heating/cooling
water
URL: https://www.tekniskaverken.se/opendata
Contact person for questions: opendata@tekniskaverken.se
46elks
Use 46elks to send and receive SMS, MMS and voice calls through an API. Do stuff like automatically call users to verify their phone number. All East Hack Sweden participants get access to the API and can do anything that can be done with a telephone and more – from voice calls to IoT communications.
Contact person for questions: victoria@46elks.com
Thin Film Electronics
The participating teams will get access to NFC Speedtap labels. The NFC Speedtap is a flexible highly secure Single-ID NFC tag. The security comes from the fact that a unique ID is hardcoded in the tag during manufacturing and stored in Thinfilm's cloud software. This means that the tags are extremely difficult to copy which means that they are ideally suited for use in applications such as brand protection and similar. The NFC Speedtap can be attached to objects and thereby makes them smart. When read with an NFC enabled smartphone, the NFC Speedtap will point to a specific URL or start a smartphone application. The NFC Speedtap uses the fastest NFC protocol in the industry and since it is being manufactured using printed electronics, it is highly cost efficient and as such can enable applications where current NFC chips are too expensive. The teams are thus encouraged to think creatively for new uses of the technology.
Furthermore, the NFC Speedtap is connected to Thinfilm's CNECT platform that is a B2B platform that gives information about when and an approximation (Geo-IP) where the labels have been read. When using the App and the user accepts, the location is provided by the GPS coordinates. If the user is using the browser, the approximate location is based on reverse Geo-IP look up. The data generated can then be used in various ways by the teams, for instance to see which tags that has been read or something similar.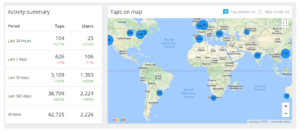 Figur 1. Thinfilm's CNECT platform
The CNECT is primarily a B2B (Business to Business) platform with the purpose of ensuring brand protection and giving insight into the behavior of consumers.
For the hack, we also offer the use of the Tagitsmart platform. Tagitsmart is an open source platform that is more general than the CNECT platform. The Tagitsmart platform is in its current state based on Evrythng IoT Smart Products platform. As an example, the platform enables the use of QR codes as well as NFC products. QR codes can be generated and printed using an ordinary computer and printer.
Each team will get access to:
NFC Speedtap labels
Access to CNECT
Access to Tagitsmart via the Evrythng platform
Let´s create the city of the future together!
Developers, designers and motivated people from Sweden and abroad will gather for a full weekend Hackathon in Linköping. Join us and take part in creating new IoT-solutions within Human interaction & integration, Healthcare & Medical Care, Energy & Sustainability and Civil Environment & Transportation.
Make an impact on the world while being creative. East Sweden Hack is a hackathon where you get to combine Open Data with Internet of Things.
During one weekend you'r mission is to develop a new product together with your team. We make sure that everything around you works so that you can focus on developing your product.
Oh, and one more thing: you also get to have a lot of fun and hang around with creative people.